Warrick Sandberg Steam Fittings
Warrick Sandberg Steam Fittings
These fittings have been made and supplied by Warrick Sandberg.
Injectors
Are designed for Australian Conditions, mostly the ability to work using warm water.Every injector is tested at 45 and 110 psi. They have a bronze body and brass cones with a stainless steel ball. They come with tails and fittings for 3/16 diameter copper pips.
We should have Warrick's injectors by June 2017
Drain Cocks - Steam Operated
Warrick Sandberg Drain Cocks are made from brass and have an "O" Ring seat and an "O" ring on the steam piston. They are available with 3/16 x 40tpi, 1/4 x 40tpi, 5/16 x 26 tpi and 3/8 x 26 tpi mouting threads.
Warrick's steam operated drain cocks require a three way valve to open and close the drain cocks.
Injectors 1 1/14 Pint per Minute
Warrick's Injectors are currently in production and due on the market 2017
Inline Steam Valves 3/16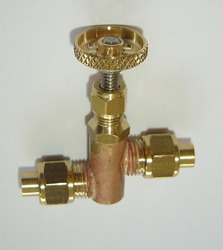 Inline Steam Valves are made of brass and stainless steel
3/16 Diameter pipe fittings supplied.
Ideal for injectors, blower etc.
We sell for $45
Small Operating Valve for 3/16 and 1/4 40 tpi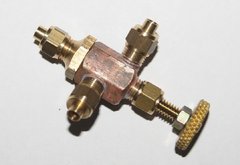 Small Operating Valve Steam Operated Drain Cocks sell for $55
Set of 4 Drain Cocks 3/16 x 40
3/16 x 40 set of 4 Drain Cocks
(2 left hand, 2 right hand)
Sell for $85
Injectors 1 3/4 Pint per Minute
Warrick's Injectors are currently in production and due on the market 2017
Turret Mounted Steam Valve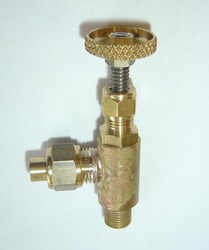 Turret Mounted Steam Valve are supplied with 3/16 pipe fittings. They are made of brass and stainless steel. 1/4 x 40 tpi mount
Ejector
Large Operating Valve for 5/16 and 3/8 x 26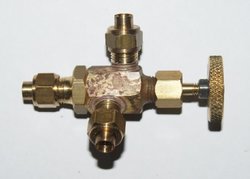 Large Operating Valve Steam, Operated Drain Cocks sell for $65
Set of 4 Drain Cocks 1/4 x 40
1/4 x 40 Set of 4 Drain Cocks
( 2 left hand, 2 right hand)
Sell for $85